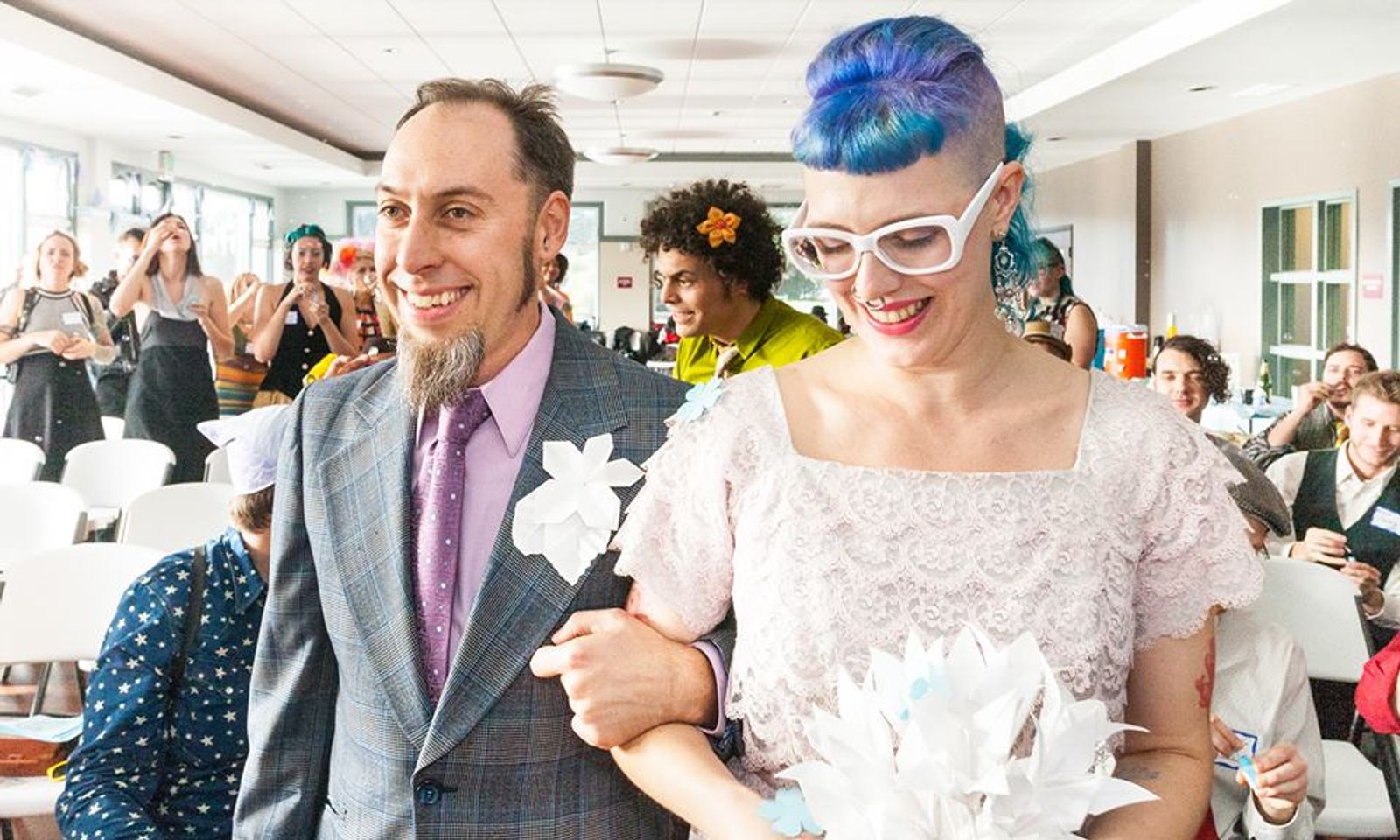 So we got married this Saturday in a SURPRISE LARP wedding. No one knew what was happening. We went as far as to register our friend as a minister in the Universal Life Church! It was incredible. I've never been one who dreams of weddings, but by doing something so silly I ended up with my dream wedding!
We had weird family dynamics, totally out of control flower children, mad libs vows, readings from random books (including a section of Skinny Legs and All which starts, "JEZEBEL") and last but not least the ring bearer took off his pants… It was basically a giant ridiculous shit show! I was so nervous beforehand that things would go wrong, I was almost in tears! As soon as we started walking down the aisle and I saw everyone jumping and cheering in a cloud of bubbles and paper flower petals I started smiling and laughed the entire ceremony.
To get a sampling of the characters and the ridiculous goings on at our wedding check out:
I'm grateful to all my friends who are really, really good sports! I realize I'm probably setting myself up for retribution from some people but that is A-ok 🙂
Wedding Gifts
After our wedding, multiple people asked how they could give a gift. If you would like to give us a wedding gift, you can donate to our Honeymoon Fund thru paypal (or other means if you hate paypal).
TA & Colin's Honeymoon Fund!
All funds will be set aside in our Honeymoon Fund so we can go on a tropical vacation (destination TBD) at some point in 2015.
Give the gift of Charity
We would also be thrilled if anyone wants to donate to charity in lieu of a gift to any of the following organizations:
Get your own set of Wedding, the LARP cards!
We have turned Wedding, the LARP into an actual published game! In order for it to work as a published game we created a new illustration, changed a few of the characters, added cards for the betrothed, and revamped the cards so that they are degendered so you can have a straight wedding, a gay wedding, or whatever floats your boat!
You can download the Wedding, the LARP Print & Play pdf for FREE or buy your own deck of Wedding, The LARP cards from DriveThruCards!
We are also open to custom decks with your photo or illustration on them — if this interests you please contact us at info@mirthpeddlers.com
Wedding, The LARP cards and programs (Photo by Shalaco)
Amazing photos by Shalaco